Black Hummer Stretch at Prague Airport (Vaclav Havel Int.) - side view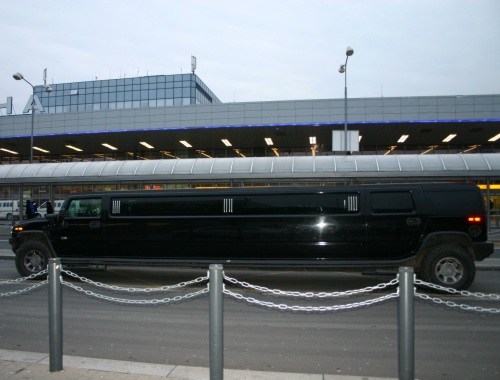 The Black Hummer H200 Stretch of Airport Transfer Prague, parked in front of Terminal 1 at the Prague Airport (Vaclav Havel International).
The length of the vehicle is 10.5 meters (almost 20 passengers can get on board, well, we reccommend 15 with reasobnable luggage).
Ask drivers how they like bookings of transfers in the Long Hummer inside of the city of Prague. We must plan meeting pointsand routes of trips in the Hummer Stretch better than other transfers due to the fact that the Hummer Stretch is not able to pull in every street and every corner in Prague streets nor park on every parking lot. A client one day booked the Hummer for whole day for his daughter 15 yeras birthday party and he wished that the car will stop in front of their house in the morning. I had to sit the driver of Hummer in my car first and we drove all the way there so he could tell me if it is possible at all or not. He had to reverse out of the home of the customer anyway, because the city of Prague decided to repair the street the very same morning :)
TRANSFER FROM / TO PRAGUE AIRPORT
4750 CZK (180 EUR)
1 HOUR RENTAL
from 4250 CZK (160 EUR)
PRICES PER CAR / not per person

WHOLE DAY RENTAL OF HUMMER IN PRAGUE FROM 120 EUR / HOUR
You can have whole day rental of Black Stretch Hummer in Prague (or Czech Republic) at a rate from 120 EUR / 99 GBP (2900 CZK) per hour. The price of Prague Hummer rental is valid per the vehicle (not per person). Maximum capacity of this Hummer stretch limousine is 15 passengers. Call operator of Airport Transfer Prague at 00420 728 876 876 or just send us Your transfer request (fill in the contact form) to get Your quote. We will send you calculation.
We will arrange all necessary things, supply You with flowers, drinks (Czech beer or Champagne, snacks etc.) and take care of the comfort and entertainment of Your party.
Equipment of the Black Stretch Hummer
CD, DVD and radio Sony
3 flat color TVs
amplified surround system Sony (discotheque in Hummer)
3 color-lightened bars with fridge boxes
roof and floor lights with stroboscope effects
intercom for communication with chaffeur
Ski Resorts
Nice mail from Richard
Dinner with the Folklore
New pictures of cars
Transfer Prague Harrachov