Transfer from Prague to Nuremberg
Transfers from Prague Airport or City Centre to Nuremberg.

Distance from Prague to Nuremberg: 300 km
Transfer duration: 3:00 h
Transfer Prague - Nuremberg - 4 pax
prices per vehicle VW Passat, Skoda Superb, Mercedes E
one way
6400 CZK or 262 EUR
return trip
12500 CZK or 512 EUR
Transfer Prague - Nuremberg - 8 pax
prices per minivan Mercedes Vito/Viano, VW Caravelle/Transporter
one way
7950 CZK or 326 EUR
return trip
15550 CZK or 638 EUR
Larger groups transport between Prague and Kosice
Please contact us in the case your group is larger than 8 passengers. We will calculate the price of the transfer from Prague to Kosice and will send it to you. We also will help you with choosing the best combination of the vehicles - whether you prefer one larger vehicle / (mini)bus / coach or a combination of smaller vehicles (sedans and minivans). We offer discounts for larger groups and return transfers.
Sightseeing tour with stops on the route Prague - Kosice (eg. Brno / Bratislava)
Are you on a holiday in Central Europe? Would you like to visit some interesting places on your way from Prague to Kosice, like Brno or Bratislava? In that case we are ready to make the stop(s) for you. Just please mention it in the booking form in the field "note". We are flexible so we make stop at any place(s) you want to visit, we will charge just 10 EUR per hour witing time per a sedan and 15 EUR per minivan. Driver will wait for you at the agreed meeting point. We also can arrange a licenced tour-guide for you. For this kind of service it is better to contact us by email or via this contact form.
Price of oneway transfer from Prague to Nuremberg
The price is valid for transfer from Prague to Nuremberg or transfer from Nuremberg to Prague.
Price of return transfer from Prague to Nuremberg
The price is valid when you book transfer to Nuremberg and return from Nuremberg in separate days so we send your driver to Nuremberg again.
Discounted one day transfers / tours to Nuremberg and back
You do not pay return transfer from Nuremberg, just waiting fee, if you return in the same day!
In the case you go to Nuremberg and return the same day, the driver will wait for you in Nuremberg and we charge waiting fee 250 CZK / 10 EUR per sedan per 1 hour or 375 CZK / 15 EUR per minivan per hour. It is cheaper than booking return transfer = 2 separate transfers.
What to see in Nuremberg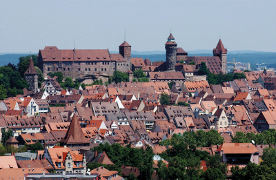 These are a few selected sites you can see in the Nuremberg.
Nuremberg's Old Town
The best way to explore Nuremberg's Old Town is to walk; highlights along the way include the original city walls, the Castle Quarter with its sand stone and timber framed houses, the Heilig-Geist-Spital, one of the largest hospitals from the Middle Ages, and of course the Imperial Castle (Kaiserburg), which was the residence of Germany's Kaiser and kings between 1050 to 1571. From the train station, it's a half-hour walk through the Nuremberg's Old Town - check out this Route trough Nuremberg , which takes you to the most scenic sights all the way to the Imperial Castle.
Albrecht Dürer House
One of Nuremberg's most famous residents was Albrecht Dürer, the greatest artist of the Northern Renaissance. His timber-framed house in Nuremberg's Old Town, set underneath the Imperial Castle, is now a museum dedicated to the artist's life and work. On display are Dürer's original etchings, woodcuts and paintings, and you can also tour the artist's painting and printing workshop, where Dürer's working techniques are demonstrated. Every Saturday at 2 p.m., there is a guided tour in English.
Nazi Party Rally Grounds
After Adolf Hitler declared in 1933 that Nuremberg should be "City of the Nazi Party Rallies", the Nazi Party Rally Grounds with its monumental buildings, arenas, and roads for Nazi mass events and parades were constructed. Nowhere else in Germany can the remains of authentic Nazi architecture be seen as here. In one wing of the unfinished Congress Hall, which was designed to seat 50,000 spectators, you'll find the excellent permanent exhibition "Fascination and Terror", which explores the rise of the Nazi Party, the Führer myth, Nazi party rallies, racism and anti-Semitism, the German resistance and the Nuremberg trials.
Memorium Nuremberg Trials
Open since 2010, this museum in the east wing of Nuremberg's Palace of Justice offers an in-depth exhibition about the history of the Nuremberg Trials. The museum is located in the very same building where the Allies tried Nazi officials for crimes against peace, war crimes, and crimes against humanity between 1945 and 1949. You can even tour the original courtroom 600, where the trails took place (please note that access might be limited as the court is still active and room 600 is still used for trials today).
The World's Oldest Sausage Restaurant "Zum Guldenen Stern"
Nuremberg is famous for its hearty "Nürnberger", roasted pork sausages, and there is no better place to feast on them than in the oldest Bratwurst restaurant in the world. Since 1419, Nuremberg's restaurant "Zum Guldenen Stern" dishes up its tasty sausages, handcrafted by local butchers according to traditional recipes and grilled over beech wood fire. Served six at a time, try them with sauerkraut and homemade potatoes salad and a side of horseradish cream. Everything you'll eat here comes from family-owned farms from the region.
Ski Resorts
Nice mail from Richard
Dinner with the Folklore
New pictures of cars
Transfer Prague Harrachov