Transfer from Prague to Bratislava
Transfers from Prague Airport or City Centre to Bratislava.

Distance from Prague to Bratislava: 335km
Transfer duration: 4 h
Transfer Prague - Bratislava - 4 pax
prices per vehicle VW Passat, Skoda Superb, Mercedes E
one way
5700 CZK or 234 EUR
return trip
11100 CZK or 455 EUR
Transfer Prague - Bratislava - 8 pax
prices per minivan Mercedes Vito/Viano, VW Caravelle/Transporter
one way
7100 CZK or 291 EUR
return trip
13850 CZK or 568 EUR
Larger groups transport between Prague and Bratislava
Please contact us in the case your group is larger than 8 passengers. We will calculate the price of the transfer from Prague to Bratislava and will send it to you. We also will help you with choosing the best combinationof the vehicles (whether you prefer one larger vehicle / (mini)bus / coach or a combination of smaller vehicles (sedans and minivans). We offer discounts for larger groups and return transfers.
Sightseeing tour with stops on the route Prague - Bratislava (Brno, Moravia etc.)
Are you on your holiday trip? Do you wish to visit some interesting places on your way from Prague to Bratslava, like some beautiful sites in Moravia or would you like to spend some hours visiting Brno? In that case we are ready to make the stop(s) for you. Just please mention it in the booking form in the field "note". We are flexible so we make stop at any place(s) you want to visit, we will charge just 10 EUR per hour witing time per a sedan and 15 EUR per minivan. Driver will wait for you at the agreed meeting point. We also can arrange a licenced tour-guide for you. For this kind of service it is better to contact us by email or via this contact form.
Price of oneway transfer from Prague to Bratislava
The price is valid for transfer from Prague to Bratislava or transfer from Bratislava to Prague.
Price of return transfer from Prague to Bratislava
The price is valid when you book transfer to Bratislava and return from Bratislava in separate days so we send your driver to Bratislava again.
Discounted one day transfers / tours to Bratislava and back
In the case you go to Bratislava and return the same day, the driver will wait for you in Bratislava and we charge 250 CZK / 10 EUR per 1 hour. It is cheaper than booking return transfer = 2 separate transfers.
Example: you departure from Praha at 8am. You arrive to Bratislava at 12:00. You leave Bratislava at 18:00. That is 6 x 10 EUR = 60 EUR per the return transfer!
What to see in Bratislava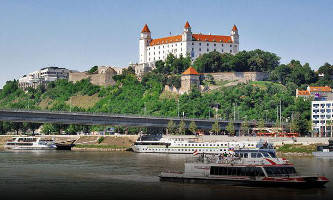 These are a few selected sites you can see in the capital city of Slovakia - Bratislava.
Bratislava Old Town
The charming atmosphere of Bratislava Old Town encharms all admireres of unique architecture, centuries-old buildings. I especially liked that the center of Bratislava is traffic-free - you can reach it by walk or on a tram.
The Devin Castle
Devin is an ancient place - very old stone castle on the rock above the confluence of two rivers - Dunabea (Dunaj) and the Morava rivers. The origin is dated bck to 8th / 9th century when first Slavic inhabitants settled down at the area of Slovakia.
Slovak National Theatre
Slovak National Theatre is the best Slovak theatre. Tickets are cheap in comparison to other main European theatres. Enjoy operas and acts such as La Traviata, Aida, armen and others.The theatre bulding is a neo-reneissance style and it is worth to see even if you dont choose any performance.
Slavin
Slavin is both historical and observation point. Walk up from the Bratislava Old Town and you will reach Slavin in about 20 - 30 minutes or take on bus 147 which will get you to the spot. Slavin is a typical communistic monument and it is included as a site in Communistic Tours in Bratislava. Most people say that the view from it is stunning and so it is worth to get there just for the great view on Bratislava
Bratislavian UFO Observation Deck
The UFO observation deck in Bratislava was declared as the building of the century. It is build on the top of a restaurant and - especially on the clear sky - offers a view round Bratislava in the distance almost 100 km. It is large enough to accomodate a bigger group of visitors. Use the elescope which is free of charge!
Ski Resorts
Nice mail from Richard
Dinner with the Folklore
New pictures of cars
Transfer Prague Harrachov