Transfer from Prague to Brno
Company airport-transfer-prague.eu provides low cost, efficient, private transfers from Prague to Brno. There is one fixed price from every address in Prague (Prague Airport or City Center) to any address in Brno - we do not distinguish between different pick-up points in Prague. Transfers are quoted per group / vehicle, not per passenger.
Distance from Prague to Brno: 220km
Transfer duration: 2 h
Transfer PRAGUE - BRNO (or BRNO - PRAGUE) in sedan for max. 4 pax
one way
3750 CZK or 154 EUR
return trip
7200 CZK or 295 EUR
prices per vehicle
(VW Passat, Skoda Superb etc.)
Transfer PRAGUE - BRNO (or BRNO - PRAGUE) in minivan for max. 8 pax
one way
4650 CZK or 191 EUR
return trip
8900 CZK or 365 EUR
prices per minivan
(Mercedes Vito/Viano, VW Caravelle/Transporter)
Transport of larger groups between Prague and Brno
Please contact us in the case your group is larger than 8 passengers. We will calculate the price of the transfer from Prague to Brno and will send it to you. We also will help you with choosing the best combinationof the vehicles - whether you prefer one larger vehicle / (mini)bus / coach or a combination of smaller vehicles (sedans and minivans). We offer discounts for larger groups and return transfers.
Price of oneway transfer from Prague to Brno
The price is valid for oneway transfer from Prague to Brno or oneway transfer from Brno to Prague.
Price of return transfer from Prague to Brno
The price is valid when you book transfer to Brno and return from Brno in separate days so we send your car & driver to Brno from Prague again.
Free return transfer from Brno
In the case you return from Brno the same day, the car & driver will wait for you in Brno and we charge only waiting fee which is 10 EUR / 250 CZK (sedan) and 12 EUR / 300 CZK (minivan) per hour. It is cheaper than booking return transfer = 2 separate transfers.
Example: you departure from Praha at 8am. You arrive to Brno at 10:00. You will departure from Brno at 15:00. So we will charge 5 x 10 EUR that is 50 EUR not 154 EUR per the return transfer!
What to see in Brno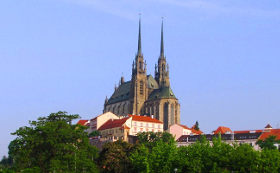 Old Town Hall
Brno Od Town is very charming. You can walk through tiny old streets and get amazed by its unique atmosphere. Brno was founded 1.000 years ago and it is the second largest city in the Czech Republic (talking both about the area and number of citizens).
Phalic Clock
Well, the architecture says that the Phallic Clock is shaped as a bullet to memorize an epic battle which took place in the place in the 17th century. It is little odd for locals, because it reminds the shape of ... yeah, I think every bullet reminds the phalic shape, does not? What is interesting - every 11 am a glass ball descends from the top to the bottom of the clock tower and appears in a different hole. Tourists stick their hands to the holes to be lucky that day. Why 11 o´clock? The Sweeds in 1654 decided to retreat if they had not conquer the Brno until the noon. To trick them, Brno defenders started to ring the city bells one hour in advance!
Spilberk Castle
Fortress with origin in 13th century served as a military base and the defending point (on the Spilberk Hill), later as a prison for the Habsburg´s opponent. Recently it houses the Brno City Museum and several exhibitions related to Brno´s and Castle history. The Spilberk castle area is elevated on the top of Spilberk hill, the castle is a dominant of Brno city and it also offers a great view down to the Brno.
Villa Tugendhat
Villa Tugendhat was designed by the famous German architect Mies van der Rohe in 1930 in so called " Bauhaus style" it is listed as a UNESCO World Heritage Site. It is very popular tourist site and offer limited number of tours in English and it is better to make reservations in advance.
Capuchin Church Mummies
People say it is a must see while in Brno. Unique, well and bit scary (the mummies are well preserved and look like alive). The Capuchin Church is located in Brno´s Old Town. I heard one funny sentence of a lady who just left the crypt, she said "the only nice thing down there is that it is cool down there in the summer heat.".
Brno Moto GP
Some kilometres from Brno, on the D1 highway (exit Ostrovacice), there is the largest racing circuit in the Czech Republic (called also Masaryk Ring). Every summer it accommodates Moto GP (World Road Bike Championship) motorcycle racing event.
Testimonials Prague Brno tansfers
Message: Hi, we found you on google as a taxi between Prague and Brno, we are interested to get from Prague airport to Moto GP in Brnuo 15 Aug. Could you please give me a quote for group of 6 people, we do not know the exact arrival to Prague yet nor exact drop off point since we still have not booked accommodation in Brno. Also - we will be returning back round 18th 19th Aug. Anyway, if you can reccommend anything suitable, we would appreciate.
Cheers, Derick!

Ski Resorts
Nice mail from Richard
Dinner with the Folklore
New pictures of cars
Transfer Prague Harrachov