Transfer from Prague to Budapest
Transfers from Prague Airport or City Centre to Budapest.

Distance from Prague to Budaest: 575 km
Transfer duration: 6:45 h
Transfer Prague - Budapest - 4 pax
prices per vehicle VW Passat, Skoda Superb, Mercedes E
one way
9800 CZK or 402 EUR
return trip
18900 CZK or 775 EUR
Transfer Prague - Budapest - 8 pax
prices per minivan Mercedes Vito/Viano, VW Caravelle/Transporter
one way
12250 CZK or 502 EUR
return trip
23600 CZK or 968 EUR
Larger groups transport between Prague and Budapest
Please contact us in the case your group is larger than 8 passengers. We will calculate the price of the transfer from Prague to Budapest and will send it to you. We also will help you with choosing the best combinationof the vehicles (whether you prefer one larger vehicle / (mini)bus / coach or a combination of smaller vehicles (sedans and minivans). We offer discounts for larger groups and return transfers.
Sightseeing tour with stops on the route Prague - Budapest (Brno, Bratislava, Vienna etc..)
Are you on a holiday in Central Europe? Would you like to visit some interesting places on your way from Prague to Budapest, like some beautiful sites in Moravia (Czech Republic) or do you wish to visit Brno or Bratislava which both are on the way from Prague to Budapest? How about to make one day stop in Vienna on your way to Budapest or from Budapest? In that case we are ready to make the stop(s) for you. Just please mention it in the booking form in the field "note". We are flexible so we make stop at any place(s) you want to visit, we will charge just 10 EUR per hour witing time per a sedan and 15 EUR per minivan. Driver will wait for you at the agreed meeting point. We also can arrange a licenced tour-guide for you. For this kind of service it is better to contact us by email or via this contact form.
Price of oneway transfer from Prague to Budapest
The price is valid for transfer from Prague to Budapest or transfer from Budapest to Prague.
Price of return transfer from Prague to Budapest
The price is valid when you book transfer to Budapest and return from Budapest in separate days so we send your driver to Budapest again.
Discounted one day transfers / tours to Budapest and back
In the case you go to Bratislava and return the same day, the driver will wait for you in Bratislava and we charge 250 CZK / 10 EUR per 1 hour. It is cheaper than booking return transfer = 2 separate transfers.
Example: you departure from Praha at 8am. You arrive to Budapest at 15:00. The driver will wait for you and if you leave Budapest at, let´s say 19:00 we will charge you just 4 hours waiting of the car & driver, that is 4 x 10 EUR = 40 EUR per the return transfer!
What to see in Budapest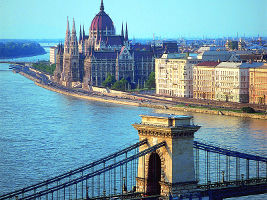 These are a few selected sites you can see in the capital city of Hungaria - Budapest.
Budapest Baths
We will not tell you more here than just "go and explore why everyone says ´You must go in Budapest Baths while in Budapest´".
Buda Castle
Well, the name Budapest is compound from 2 words - "Buda" and "Pest" which both lay on differet sides of the river Danube (Dunau). The Buda castle is located on the Buda / Castle Hill and offers fantastic views over the river. Visit places like Gresham Palace, Matthas Church or a Chain Bridge. Buda Castle is btw the seat of Hungarian Parlament.
Heroes Square
Visit the Old and the New Museums, see the art "from Mummies to Raffaello" or get amazed by the top modern art. Do not miss the unique complex of statues called Hungarian Millenium Monument, enter the City Park or have a look in the House of Terror.
Walk by the River
It is called Danube Promenade where you can see a lot from the city of Budapest. You will walk a lot in Budapest anyway and walking by the river of Dunabe is one of the top five "must to do" anyway. If you get tired from walking anyway, jump on Tram nr.2 and enjoy one of the most stunning tram lines in the world. We reccommend to finish your walking by the river getting on a boat or after sunset and enjoy some unforgettable boat cruise on the river Danube.
Cousine in Budapest
Well, here I hesitated what to reccomend as the "last" item from our short "5 things must to see / do" in Budapest. I was choosing between music and cousine. Well, I love Hungarian cousine! Hungaria is the place of origin of my maybe most popular dish ever - goulash. They say there are thousands of variants of goulash, but the right, original one, beef one comes only from Hungaria. I also love the Hungarian Sausages (Klobasa). What not many people knows is that Budapest is also a city for coffe cake lovers. Just please forget to be a vegetarian while trying to eat in Budapest :-) And - well, before I forget - the Hungarian Wines - are just one outstanding chapter.
Ski Resorts
Nice mail from Richard
Dinner with the Folklore
New pictures of cars
Transfer Prague Harrachov