Transfer from Prague to Cesky Krumlov
Company airport-transfer-prague.eu provides low cost, efficient, private transfers from Prague to Brno. There is one fixed price from every address in Prague (Prague Airport or City Center) to any address in Český Krumlov - we do not distinguish between different pick-up and drop-off points in Prague and Cesky Krumlov. Transfers are quoted per group / vehicle, not per passenger.
Distance from Prague to Cesky Krumlov: 180km
Transfer duration: 2:30 h
Transfer PRAGUE - ČESKÝ KRUMLOV (or ČESKÝ KRUMLOV - PRAGUE) in sedan for max. 4 pax
one way
3450 CZK or 141 EUR
return trip
6250 CZK or 256 EUR
prices per vehicle
(VW Passat, Skoda Superb etc.)
Transfer PRAGUE - ČESKÝ KRUMLOV (or ČESKÝ KRUMLOV - PRAGUE) in minivan for max. 8 pax
one way
4300 CZK or 176 EUR
return trip
7800 CZK or 320 EUR
prices per minivan
(Mercedes Vito/Viano, VW Caravelle/Transporter)
Transport of larger groups between Prague and Cesky Krumlov
Please contact us in the case your group is larger than 8 passengers. We will calculate the price of the transfer from Prague to Český Krumlov and will send it to you. We also will help you with choosing the best combinationof the vehicles - whether you prefer one larger vehicle / (mini)bus / coach or a combination of smaller vehicles (sedans and minivans). We offer discounts for larger groups and return transfers.
Price of oneway transfer from Prague to Český Krumlov
The price is valid for oneway transfer from Prague to Cesky Krumlov or oneway transfer from Cesky Krumlov to Prague.
Price of return transfer from Prague to Cesky Krumlov
The price is valid when you book transfer to Cesky Krumlov and return from Cesky Krumlov in separate days so we send your car & driver to Cesky Krumlov from Prague again.
Free return transfer from Cesky Krumlov
In the case you return from Cesky Krumlov the same day, the car & driver will wait for you in Cesky Krumlov and we charge only waiting fee which is 10 EUR / 250 CZK (sedan) and 12 EUR / 300 CZK (minivan) per hour. It is cheaper than booking return transfer = 2 separate transfers.
Example: you departure from Praha at 8am. You arrive to Cesky Krumlov at 10:00. You will departure from Cesky Krumlov at 15:00. So we will charge 5 x 10 EUR that is 50 EUR not 154 EUR per the return transfer!
What to see in Český Krumlov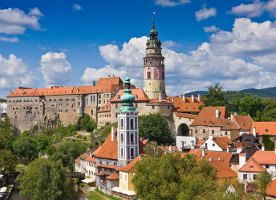 Cesky Krumlov Castle
The complex of the cesky Krumlov castle offers a lot to see, not only buildings of almost eight hundred years history (the first notice about the castle is mentioned in 1253), it is extensive complex of courtyards, gardens etc. What to see in Castle complex in Český Krumlov:
Castle Lapidarium - collection of stone statues and sculptures
Wenceslas cellars - 3 level cellars built in 14th century in the rock under the 4th courtayrd and served as technical and economical background of the castle. Story says that they inherited their name after Cesky Krumlov kept King Wenceslas IV as a prisoner in 1394 year. Recently the cellars serve as a frame for ceramic exhibitions
Castle Tower - tower built in the 13th century (later rebuilt i think in 16th century), you can see the tower at most of the pictures of Cesky Krumlov. It is almost 55 meters tall and when you count on the act the castle complex is built on the high rock, after you climb all 162 steps, you are rewarded with nice view to the old town of Cesky Krumlov and the surrounded area.
The Chateau´s Baroque Theatre the theatre building was built at the second half of the 16th century. It is unique, because it keeps most of its original equipment, decorations, costumes, requisits and also lge archive of the old acts.
The garden open air theatre is unique by its pivot stage which rotates
Eggenberg (Cesky Krumlov) Brewery
Well, I like the Eggenberg beer. My father used to be a direct customer of the Cesky Krumlov brewery and we book a barrel of the beer every week or two. The quality is very good, the beer is pretty strong (yet it has little light color) and the price was great (2000 year, 10 CZK per half liter, it would be just 40 Euro Cents now) and even if my father was just a "small sized" customer they always bring the barrell directly to our home place. The Cesky Krumlov brewery is very old, they started to brew the beer in the Cesky Krumlov Castle in 14th century, later (in 1605) they decided to build larger, new, brewery lower in the town cesky Krumlov.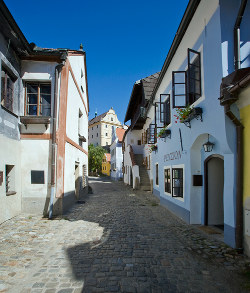 Old Town of Cesky Krumlov - Latrán
Latrán is a name of one of the oldest quarters of cesky Krumlov and also of a street passing through the quarter. It is very charming part of town, we will just name sights worth to see / pass here: Budweiser Gate, Saint Jodock´s Church, Barber Bridge, The Cylindrical Bastion and Minority Monastery...
Parkán
Maybe the most pitoresque street in Cesky Krumlov. It used to be a moat between the fortifications of Cesky Krumlov. After it stopped its service in 16th century, people just started to build houses and used the town wall as a part of the houses.
Plesivec and Municipal Park
Inside of the triangle made by the river Vltava and the Old Town of Cesky Krumlov, the Municipal Park recently offers a quite garden for relax and having rest, well it used to be use for economic purposes in the early years by the inhabitants of Cesky Krumlov area. The park also serves to numbers of songbirds which make the town little bit "cheery" :-)
-
Ski Resorts
Nice mail from Richard
Dinner with the Folklore
New pictures of cars
Transfer Prague Harrachov