Transfer from Prague to Decin
Company airport-transfer-prague.eu provides low cost, efficient, private transfers from Prague to Decin / Děčín. There is one fixed price from every address in Prague (Prague Airport or City Center) to any address in Decin - we do not distinguish between different pick-up and drop-off points in Prague and Decin. Transfers are quoted per group / vehicle, not per passenger.
Distance from Prague to Decin: 120km
Transfer duration: 1:30 h
Transfer PRAGUE - DECIN (or DECIN - PRAGUE) in sedan for max. 4 pax
one way
2100 CZK or 86 EUR
return trip
3950 CZK or 162 EUR
prices per vehicle
(VW Passat, Skoda Superb etc.)
Transfer PRAGUE - DECIN (or DECIN - PRAGUE) in minivan for max. 8 pax
one way
2600 CZK or 107 EUR
return trip
4900 CZK or 201 EUR
prices per minivan
(Mercedes Vito/Viano, VW Caravelle/Transporter)
Transport of larger groups between Prague and Decin / Děčín
Please contact us in the case your group is larger than 8 passengers. We will calculate the price of the transfer from Prague to Děčín and will send it to you. We also will help you with choosing the best combinationof the vehicles - whether you prefer one larger vehicle / (mini)bus / coach or a combination of smaller vehicles (sedans and minivans). We offer discounts for larger groups and return transfers.
Price of oneway transfer from Prague to Děčín
The price is valid for oneway transfer from Prague to Decin or oneway transfer from Decin to Prague.
Price of return transfer from Prague to Děčín
The price is valid when you book transfer to Děčín and return from Decin in separate days so we send your car & driver to Decin from Prague again.
Free return transfer from Decin
In the case you return from Decin the same day, the car & driver will wait for you in Decin and we charge only waiting fee which is 10 EUR / 250 CZK (sedan) and 12 EUR / 300 CZK (minivan) per hour. It is cheaper than booking return transfer = 2 separate transfers.
Example: you departure from Praha at 8am. You arrive to Decin at 10:00. You will departure from Decin at 15:00. So we will charge 5 x 10 EUR that is 50 EUR not 86 EUR per the return transfer!
What to see in Děčín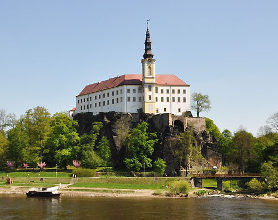 Is it worth to stop in Decin on my way from Prague to Dresden?
This question I found (I think) on the Trip Advisor the other day and I was surprised by the frank answer "No, Decin is one of the dummiest places on the planet.." or so. I dont think that the answer is really "accurate". So - is it worth to stop in Decin at all? We say yes, how about...
Decin´s Zoo
it could be one of the smaller Zoos in the Czech Republic, but it is also one of the most beautiful. Located on the top of a hill on the left bank of the river Elbe in the middle of small forest. It accommodates over 100 pieces and over 300 animals even Grizzly Bear. There is a playground for children and a restaurant which will surprise you by the prices of dishes.
Shepperd´s Cliff (Pastýřská stěna)
Drive up to little restaurant looking like a little castle at the top of the cliff called Pastýřská stěna and get beautiful view of the city Dečín. It is pretty sharp rocky hill towering over the left bank of the Elbe river, the elevation is about 150 meters, if you are affraid of heights, stay on a safe terrace and enjoy the view from there. If you are fit, you can also walk there from the railway station. It is a good starting point for some walking paths through some forests round and also good access to Decin´s Zoo which we mentioned above.
Regional Museum of Decin
Decin's regional museum found its home in classicistic building that goes back to a hunting lodge of the Thun family built in 1735. It is located in Podmokly (Bodenbach) across the river from the castle. Do not miss a very unique tree in front of the building, I have never seen any before - it is Ginko Biloba.
Castle and Castle Gardens
Large complex of the Decin´s castle is located on a rock above the right bank of the river Elbe (Albe). I admire its access, a street called "Long drive" covered by cobble stones and with stone walls to both sides, it leads from the bottom town straight to the plateau where the castle sits. The castle was found in 11th century and last reconstructed in the 17th century.
Ski Resorts
Nice mail from Richard
Dinner with the Folklore
New pictures of cars
Transfer Prague Harrachov