Transfer from Prague to Frankfurt
Transfers from Prague Airport or City Centre to Frankfurt am Main.

Distance from Prague to Frankfurt am Main (Germany): 510 km
Transfer duration: 4:45 h
Transfer Prague - Frankfurt am Main - 4 pax
prices per vehicle VW Passat, Skoda Superb, Mercedes E
one way
8160 CZK or 335 EUR
return trip
16200 CZK or 664 EUR
Transfer Prague - Frankfurt am Main - 8 pax
prices per minivan Mercedes Vito/Viano, VW Caravelle/Transporter
one way
10200 CZK or 418 EUR
return trip
20200 CZK or 828 EUR
Larger groups transport between Prague and Frankfurt am Main
Please contact us in the case your group is larger than 8 passengers. We will calculate the price of the transfer from Prague to Frankfurt am Main for your group and will send it to you. We also will help you with choosing the best combination of the vehicles - whether you prefer one larger vehicle / (mini)bus / coach or a combination of smaller vehicles (sedans and minivans). We offer discounts for larger groups and return transfers.
Sightseeing tours with stops on the route Prague - Frankfurt am Main
Many people decide to use our service to be transported from Prague to Frankfurt am Main as the part of their trip round Europe so they continue their holiday in Germany (you can board some boat and enjoy a boat trip on the river "Main") or they have booked the air tickets from the airport of Frankfurt. Are you on a holiday in Central Europe? Would you like to visit some interesting places on your way from Prague to Frankfurt am Main, like Pilsen, Nurnberg, Heidelberg etc.? In that case we are ready to make the stop(s) for you. Just please mention it in the booking form in the field "note". We are flexible so we make stop at any place(s) you want to visit, we will charge just 10 EUR per hour witing time per a sedan and 15 EUR per minivan. Driver will wait for you at the agreed meeting point. We also can arrange a licenced tour-guide for you. For this kind of service it is better to contact us by email or via this contact form.
Price of oneway transfer from Prague to Frankfurt
The price is valid for transfer from Prague to Frankfurt am Main or transfer from Frankfurt am Main to Prague.
Price of return transfer from Prague to Frankfurt
The price is valid when you book transfer to Frankfurt and return from Frankfurt am Main in separate days so we send your driver to Frankfurt again.
Discounted one day transfers / tours to Frankfurt and back
In the case you go to Frankfurt and return the same day, the driver will wait for you in Frankfurt and we charge 250 CZK / 10 EUR per 1 hour. It is cheaper than booking return transfer = 2 separate transfers.
Example: you departure from Praha at 8am. You arrive to Dresden at 13:00. You leave Dresden at 18:00. That is 5 x 10 EUR = 50 EUR per the return transfer!
What to see in Frankfurt am Main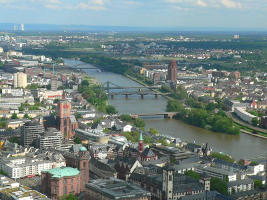 These are a few selected sites you can see in the German City Frankfurt am Main.
Römerberg
Römerberg is the old centre of Frankfurt, with a number of historic buildings dating to the 14th and 15th century (many of which, unfortunately, were destroyed during World War II and rebuilt afterwards). The Römer itself is the town hall of Frankfurt. Next to the cathedral, at the Archäologische Garten, you can see the remains of the Roman settlements that gave this place its name. At the Römer, you can also visit the Alte Nikolaikirche (a 12th century church, taking its current form in the 15th century). Several restaurants, cafés and smaller shops can be found at the square itself and in the vicinity. Walking towards the Main river, you approach the Eiserne Steg, a 19th century bridge leading to Sachsenhausen, as well as the Rententurm (Wharfinger's Tower), a 15th century fortified tower in late Gothic style, connected to the Saalhof, an old 12th century castle building that was later modernized but never completely destroyed.

Saint Bartholomeus' Cathedral (Dom)
The main cathedral, built in Gothic style in the 14th century on the foundation of an earlier church. From 1562 to 1792, emperors of the Holy Roman Empire were crowned in the cathedral. It is possible to ascend the spiral stairs of the 95 metre church tower.

Iron Bridge (Eiserner Steg)
Frankfurt's most well-known pedestrian bridge, built in 1869. It is just a minute away from the Römer, and provides great views of the skyline and the Main river. On the other side, you will reach Sachsenhausen, a district known for its museums and historic pubs.

Hauptwache
A public area that is often considered the central hub of Frankfurt's modern city centre area due to its importance as a public transportation station as well as its central location, right between the main shopping street (Zeil), the Rossmarkt (another public square), and the Eschenheimer Tor. The place is named after a Baroque building ("Hauptwache") located more or less in its centre. The building was constructed in 1730 to house the local city militia, as Frankfurt was an independent city at the time. When Frankfurt became part of Prussia, the building gradually lost its original function. Since 1905, it has instead been serving as a café ("Café Hauptwache"). Other attractions include the Katharinenkirche (an old church), and the Palais Thurn-und-Taxis (an 18th century palace partially rebuilt 2004-2009).

Alte Oper Frankfurt
Alte Oper (Old Opera), Opernplatz 1 (take U6 or U7 station Alte Oper, or any line to Hauptwache and walk a few minutes), Renaissance Opera Building in the center of the city, on a busy square with fountains and cafés. Originally opened in 1880, it is not used for operas any more since the rebuilding after the war, but for concerts, congresses, and similar "fancy" events.
Ski Resorts
Nice mail from Richard
Dinner with the Folklore
New pictures of cars
Transfer Prague Harrachov