Transfer from Prague to Hluboká nad Vltavou
Company airport-transfer-prague.eu provides low cost, efficient, private transfers from Prague to Hluboka nad Vltavou. There is one fixed price from every address in Prague (Prague Airport or City Center) to any address in Hluboka - we do not distinguish between different pick-up and drop-off points in Prague and Hluboka. Transfers are quoted per group / vehicle, not per passenger.
Distance from Prague to Hluboká nad Vltavou: 150km
Transfer duration: 1:45 h
Transfer PRAGUE - HLUBOKA (or HLUBOKA - PRAGUE) in sedan for max. 4 pax
one way
3050 CZK or 125 EUR
return trip
5450 CZK or 223 EUR
prices per vehicle
(VW Passat, Skoda Superb etc.)
Transfer PRAGUE - HLUBOKA (or HLUBOKA - PRAGUE) in minivan for max. 8 pax
one way
3800 CZK or 156 EUR
return trip
6800 CZK or 279 EUR
prices per minivan
(Mercedes Vito/Viano, VW Caravelle/Transporter)
Transport of larger groups between Prague and Hluboka nad Vltavou
Please contact us in the case your group is larger than 8 passengers. We will calculate the price of the transfer from Prague to Hluboká nad Vltavou and will send it to you. We also will help you with choosing the best combinationof the vehicles - whether you prefer one larger vehicle / (mini)bus / coach or a combination of smaller vehicles (sedans and minivans). We offer discounts for larger groups and return transfers.
Price of oneway transfer from Prague to Hluboká nad Vltavou
The price is valid for oneway transfer from Prague to Hluboka or oneway transfer from Hluboka to Prague.
Price of return transfer from Prague to Hluboká nad Vltavou
The price is valid when you book transfer to Hluboka and return from Hluboka in separate days so we send your car & driver to Hluboka nad Vltavou from Prague again.
Free return transfer from Hluboka nad Vltavou
In the case you return from Hluboka nad Vltavou the same day, the car & driver will wait for you in Hluboka and we charge only waiting fee which is 10 EUR / 250 CZK (sedan) and 12 EUR / 300 CZK (minivan) per hour. It is cheaper than booking return transfer = 2 separate transfers.
Example: you departure from Praha at 8am. You arrive to Hluboka nad Vltavou at 10:00. You will departure from Hluboka at 15:00. So we will charge 5 x 10 EUR that is 50 EUR not 86 EUR per the return transfer!
What to see in Hluboká nad Vltavou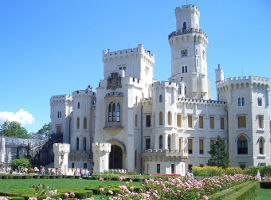 Hluboka Castle / Chateau - Czech National Inheritage
Castle in Hluboka was found in the 13th century and it is definetely one of the most charming estates of the Czech Republic. It was built in so called "Windsor style" (well it looks "English") and it was one of the favourite places to visit by the Holy Rome Emperor and Czech King Charles IV when he resided in nearby town České Budějovice. The Hluboka castle was originally built as the king´s and guardians castle, later rebuilt by aristocratic families (eg. Schwarzenbergs). Hluboka Chateau attracts high number of visitors every year also for its absolutely luxury and amazing interriors.
What places are worth to see in Hluboka Castle
Ceremonial rooms
The ceremonial rooms have been shown as a tourist attraction already since the 19th century.
Private apartments
Private apartments show how the members of aristocratic family of Habsburgs lived.
The castle kitchen
The Hluboka castle kitchen is situated in the basement to the north so it could be run without disturbing the life in the castle. The kitchen, real pride of the place was inspirated by English manor houses of 19th century. Well, this one is really large.
The castle tower of Hluboka
The 52 m tall view tower is a dominant of the Hluboka castle. In the case you can climb the 245 stairs you will be rewarded with a beautiful view o the surrounded parks and forests of the Hluboka place.
Ohrada Castle and Park
While visiting Hluboka town and castle, do not miss Ohrada park and castle which was found nearby as a hunting place by Schwarzenberg family. It recently serves as a park. There is also a little Zoo in the area of the Ohrada Park.
Ski Resorts
Nice mail from Richard
Dinner with the Folklore
New pictures of cars
Transfer Prague Harrachov