Transfer from Prague to Jelenia Gora
Transfers from Prague Airport or City Centre to Jelenia Gora.

Distance from Prague to Jelenia Gora: 195 km
Transfer duration: 2:45 h
Transfer Prague - Jelenia Gora - 4 pax
prices per vehicle VW Passat, Skoda Superb, Mercedes E
one way
3300 CZK or 135 EUR
return trip
6400 CZK or 262 EUR
Transfer Prague - Jelenia Gora - 8 pax
prices per minivan Mercedes Vito/Viano, VW Caravelle/Transporter
one way
4150 CZK or 170 EUR
return trip
8100 CZK or 332 EUR
Larger groups transport between Prague and Jelenia Gora
Please contact us in the case your group is larger than 8 passengers. We will calculate the price of the transfer from Prague to Jelenia Gora and will send it to you. We also will help you with choosing the best combination of the vehicles (whether you prefer one larger vehicle / (mini)bus / coach or a combination of smaller vehicles (sedans and minivans). We offer discounts for larger groups and return transfers.
Sightseeing tour with stops on the route Prague - Jelenia Gora (Harrachov)
Are you on a holiday in Central Europe? Would you like to visit some interesting places on your way from Prague to Jelenia Gora, like some popular ski resorts in Czech Republic (eg.Harrachov) on your way to Jelenia Gora or from Jelenia Gora? In that case we are ready to make the stop(s) for you. Just please mention it in the booking form in the field "note". We are flexible so we make stop at any place(s) you want to visit, we will charge just 10 EUR per hour witing time per a sedan and 15 EUR per minivan. Driver will wait for you at the agreed meeting point. We also can arrange a licenced tour-guide for you. For this kind of service it is better to contact us by email or via this contact form.
Price of oneway transfer from Prague to Jelenia Gora
The price is valid for transfer from Prague to Jelenia Gora or transfer from Jelenia Gora to Prague.
Price of return transfer from Prague to Jelenia Gora
The price is valid when you book transfer to Jelenia Gora and return from Jelenia Gora in separate days so we send your driver to Jelenia Gora again.
Discounted one day transfers / tours to Jelenia Gora and back
In the case you go to Bratislava and return the same day, the driver will wait for you in Jelenia Gora and we charge 250 CZK / 10 EUR per 1 hour. It is cheaper than booking return transfer = 2 separate transfers.
Example: you departure from Praha at 8am. You arrive to Jelenia Gora at 11:00. The driver will wait for you and if you leave Jelenia Gora at, let´s say 15:00 we will charge you just 6 hours waiting of the car & driver, that is 6 x 10 EUR = 60 EUR per the return transfer!
What to see in Jelenia Gora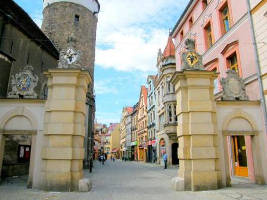 These are a few selected sites you can see in the Jelenia Gora.
Cieplice, the spa town
I don't visit and I even don't try to visit everything during my travels. I choose things I want to see. There are a lot of ohter places worth visiting in Jelenia Góra. If you are interested visit the the tourist information office.
Wojanowska Gate and Tower
Entering the gate is like crossing to another world. The building façades are renovated and the street leading to the Market Square seems to bee cleaner than before the gate.
Market Square
The Market Square is the nicest place in the center of Jelenia Góra. I enjoyed being there. Take a glas of beer and have a look at Baroque Burgher houses wiht arcades lining the whole square.
St. Erasmus and Pancras' Church
St. Erasmus and Pancras' Church is the oldest church in the town and is dedicated to two martyrs. The first church was built of wood und burntdown in 1303. It was rebuilt in stone. But the present shape of the church dates back to the 15th century. It took several decades to built this vast Gothic church made of sandstone blocks. The impressive belfry was reconstructed in 1552 after a fire and is 51 m tall. The furnishings of the church are Gothic to Baroque, f.e. renaissance pulpit baroque altar.
In the streets of Jelenia Gora
Jelenia Gora is a small city and the streets are cosy. Walking around in the Market square and the centre is comforting.
Ski Resorts
Nice mail from Richard
Dinner with the Folklore
New pictures of cars
Transfer Prague Harrachov