Transfer from Prague to Karlstejn
Company airport-transfer-prague.eu provides low cost, efficient, private transfers from Prague to Karlstejn. There is one fixed price from every address in Prague (Prague Airport or City Center) to any address in Karlstejn - we do not distinguish between different pick-up and drop-off points in Prague and Karlstejn. Transfers are quoted per group / vehicle, not per passenger.
Distance from Prague to Karlstejn: 40 km
Transfer duration: 0:45 h
Transfer PRAGUE - KARLSTEJN (or KARLSTEJN - PRAGUE) in sedan for max. 4 pax
one way
650 CZK or 27 EUR
return trip
1200 CZK or 49 EUR
prices per vehicle
(VW Passat, Skoda Superb etc.)
Transfer PRAGUE - KARLSTEJN (or KARLSTEJN - PRAGUE) in minivan for max. 8 pax
one way
800 CZK or 33 EUR
return trip
1500 CZK or 62 EUR
prices per minivan
(Mercedes Vito/Viano, VW Caravelle/Transporter)
Transport of larger groups between Prague and Karlstejn
Please contact us in the case your group is larger than 8 passengers. We will calculate the price of the transfer from Prague to Karlstejn and will send it to you. We also will help you with choosing the best combinationof the vehicles - whether you prefer one larger vehicle / (mini)bus / coach or a combination of smaller vehicles (sedans and minivans). We offer discounts for larger groups and return transfers.
Price of oneway transfer from Prague to Karlstejn
The price is valid for oneway transfer from Prague to Karlstejn or oneway transfer from Karlstejn to Prague.
Price of return transfer from Prague to Karlstejn
The price is valid when you book transfer to Karlstejn and return from Karlstejn in separate days so we send your car & driver to Karlstejn from Prague again.
Free return transfer from Karlstejn
In the case you return from Karlstejn the same day, the car & driver will wait for you in Karlstejn and we charge only waiting fee which is 10 EUR / 250 CZK (sedan) and 12 EUR / 300 CZK (minivan) per hour. It is cheaper than booking return transfer = 2 separate transfers.
Example: you departure from Praha at 8am. You arrive to Karlstejn at 10:00. You will departure from Karlstejn at 15:00. So we will charge 5 x 10 EUR that is 50 EUR not 92 EUR per the return transfer!
What to see in Karlstejn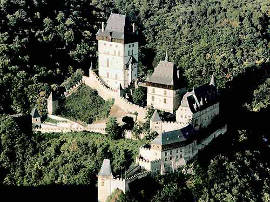 Karlstein (in german language Karlstein) is a mid-age castle located in the Beroun district aproximately 30km sout-west from Prague, just in the mddle of the national park Český Kras. Its origin is dated back to the half of 14th century. The base stone was put by the Arcibishop Arošt from Pardubice. Official interpretations say that the castle Karlstejn was built due to protection of The Czech Crown and Holy Rome Empire jewels and corpses of the saints, but historical sources show that these were placed here later. Karlstejn was originaly built as a small private country seat of Charles IV, the Holy Rome emperor, fortress with just one tower and later was enlarged by parts for the protection of the Crown Jewels.
Recently Karlstejn is an important culture, historic and architecture sight and one of the most visited castles in Czech Republic.
Karlstejn is a massive gothic castle located on a limestone rock above a little village called Karlstejn and it is collected of couple of separately fortified constructions. In the suroundments you can find large vine-yards and deep, mostly broadleaved forests.
Ski Resorts
Nice mail from Richard
Dinner with the Folklore
New pictures of cars
Transfer Prague Harrachov