Transfer from Prague to Konopiste
Company airport-transfer-prague.eu provides low cost, efficient, private transfers from Prague to Konopiste. There is one fixed price from every address in Prague (Prague Airport or City Center) to any address in Konopiste - we do not distinguish between different pick-up and drop-off points in Prague and Konopiste. Transfers are quoted per group / vehicle, not per passenger.
Distance from Prague to Konopiste: 40 km
Transfer duration: 0:45 h
Transfer PRAGUE - KONOPISTE (or KONOPISTE - PRAGUE) in sedan for max. 4 pax
one way
1300 CZK or 53 EUR
return trip
2450 CZK or 100 EUR
prices per vehicle
(VW Passat, Skoda Superb etc.)
Transfer PRAGUE - KONOPISTE (or KONOPISTE - PRAGUE) in minivan for max. 8 pax
one way
1600 CZK or 66 EUR
return trip
3050 CZK or 125 EUR
prices per minivan
(Mercedes Vito/Viano, VW Caravelle/Transporter)
Transport of larger groups between Prague and Konopiste / Konopiště
Please contact us in the case your group is larger than 8 passengers. We will calculate the price of the transfer from Prague to Konopiste and will send it to you. We also will help you with choosing the best combinationof the vehicles - whether you prefer one larger vehicle / (mini)bus / coach or a combination of smaller vehicles (sedans and minivans). We offer discounts for larger groups and return transfers.
Price of oneway transfer from Prague to Konopiste
The price is valid for oneway transfer from Prague to Konopiste or oneway transfer from Konopiste to Prague.
Price of return transfer from Prague to Konopiste
The price is valid when you book transfer to Konopiste and return from Konopiste in separate days so we send your car & driver to Konopiste from Prague again.
Free return transfer from Konopiste
In the case you return from Konopiste the same day, the car & driver will wait for you in Konopiste and we charge only waiting fee which is 10 EUR / 250 CZK (sedan) and 12 EUR / 300 CZK (minivan) per hour. It is cheaper than booking return transfer = 2 separate transfers.
Example: you departure from Praha at 8am. You arrive to Konopiste at 10:00. You will departure from Konopiste at 15:00. So we will charge 5 x 10 EUR that is 50 EUR not 66 EUR per the return transfer!
What to see in Konopiste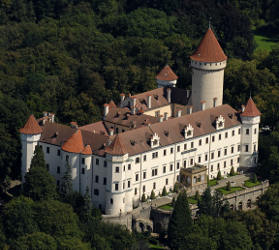 Konopiste / KonopištěChateau
In times, when there are new attractions built nearly every week, it is not very easy to stay popular and visited touristic destination. Thanks to the beautiful palace Konopiště does not have to solve this problem. The unique combination of beautiful surroundings, charming architecture, interesting history, preserved and well equipped interiors, many legends and romantic stories makes this place unforgettable. Every piece of this nice mosaic should be the reason for your trip there. Konopiště is really one of the most beatiful and popular places in Czech republic.
Come here anytime, in any season and Konopiště will ensure, that you will not leave this place dissapointed. In the spring you will be charmed by the view on the wakening plants in the palace´s garden. The summer offers strong aroma and nice colours of wonderful roses in the famous Rose garden. The autumn always prepares another wonder – a view on the surface of Konopiště fishpond that is decorated by richly coloured leaves and in which the majestic silhouette of the palace towers reflects. And in the winter you may ice-skate on the frozen pond surface. No matter in which season you visit Konopiště, it will charm you everytime..
Ski Resorts
Nice mail from Richard
Dinner with the Folklore
New pictures of cars
Transfer Prague Harrachov