Transfer from Prague to Kosice
Transfers from Prague Airport or City Centre to Kosice.

Distance from Prague to Kosice: 690 km
Transfer duration: 9:00 h
Transfer Prague - Kosice - 4 pax
prices per vehicle VW Passat, Skoda Superb, Mercedes E
one way
11700 CZK or 480 EUR
return trip
22700 CZK or 931 EUR
Transfer Prague - Kosice - 8 pax
prices per minivan Mercedes Vito/Viano, VW Caravelle/Transporter
one way
14600 CZK or 599 EUR
return trip
28350 CZK or 1162 EUR
Larger groups transport between Prague and Kosice
Please contact us in the case your group is larger than 8 passengers. We will calculate the price of the transfer from Prague to Kosice and will send it to you. We also will help you with choosing the best combination of the vehicles - whether you prefer one larger vehicle / (mini)bus / coach or a combination of smaller vehicles (sedans and minivans). We offer discounts for larger groups and return transfers.
Sightseeing tour with stops on the route Prague - Kosice (eg. Brno / Bratislava)
Are you on a holiday in Central Europe? Would you like to visit some interesting places on your way from Prague to Kosice, like Brno or Bratislava? In that case we are ready to make the stop(s) for you. Just please mention it in the booking form in the field "note". We are flexible so we make stop at any place(s) you want to visit, we will charge just 10 EUR per hour witing time per a sedan and 15 EUR per minivan. Driver will wait for you at the agreed meeting point. We also can arrange a licenced tour-guide for you. For this kind of service it is better to contact us by email or via this contact form.
Price of oneway transfer from Prague to Kosice
The price is valid for transfer from Prague to Kosice or transfer from Kosice to Prague.
Price of return transfer from Prague to Kosice
The price is valid when you book transfer to Kosice and return from Kosice in separate days so we send your driver to Kosice again.
Discounted one day transfers / tours to Kosice and back
In the case you go to Kosice and return the same day, the driver will wait for you in Kosice and we charge 250 CZK / 10 EUR waiting fee per 1 hour per sedan or 375 CZK / 15 EUR per hour for the minivan. It is cheaper than booking return transfer = 2 separate transfers.
What to see in Kosice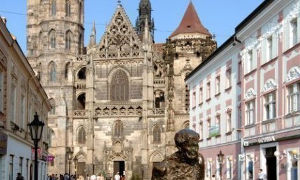 These are a few selected sites you can see in the Kosice.
Hlavna Street
Literally translated as Main Street, Hlavna is the absolute city center of Kosice. Most popular monuments of Kosice, where history meets the modern art, theaters, galleries, shops or even fountains. We even created specific guide for Hlavna Street, so you wont miss a thing.
Jakab´s Palace
One of the most beautiful buildings in Kosice, located just a minute from St. Elisabeth Cathedral or from Train station, on Mlynska Street. Newly reconstructed aftery many ownership disputes it is finally owned by the city and available for tourists to visit. Jakab's Palace was a seat for various institutions and even a temporary seat for Czechoslovakian President Eduard Benes in 1945.
Kosice´s Gold Treasure
Is probably the most valuable exhibition in Museum of Eastern Slovakia (Vychodoslovenske Muzeum). Nearly 3000 golden coins from 15th to 17th, Renaissance golden chain 214cm long and other articles.
Philharmony
The Slovak State Philharmonic is based in Kosice and is popular world-wide. Kosice has the privilege to host such popular and high quality Philharmony.
Nature
Natural Parks and Mountains are located only minutes or hours by road from Kosice. If you want to see some unspoiled nature, find your way to Slovak Paradise(Slovensky Raj) or to Tatry Mountains. Tatras are the biggest mountains in Slovakia and it takes only an hour by train to Poprad Station from where you can train to Stary Smokovec, Strbske Pleso or Tatranska Lomnica. It's really close and really beautiful.
Ski Resorts
Nice mail from Richard
Dinner with the Folklore
New pictures of cars
Transfer Prague Harrachov