Transfer from Prague to Křivoklát
Company airport-transfer-prague.eu provides low cost, efficient, private transfers from Prague to Křivoklát castle. There is one fixed price from every address in Prague (Prague Airport or City Center) to any address in Křivoklát - we do not distinguish between different pick-up and drop-off points in Prague and Krivoklat. Transfers are quoted per group / vehicle, not per passenger.
Distance from Prague to Krivoklat: 60 km
Transfer duration: 1:00 h
Transfer PRAGUE - KRIVOKLAT (or KRIVOKLAT - PRAGUE) in sedan for max. 4 pax
one way
1000 CZK or 41 EUR
return trip
1850 CZK or 76 EUR
prices per vehicle
(VW Passat, Skoda Superb etc.)
Transfer PRAGUE - KRIVOKLAT (or KRIVOKLAT - PRAGUE) in minivan for max. 8 pax
one way
1250 CZK or 51 EUR
return trip
2300 CZK or 94 EUR
prices per minivan
(Mercedes Vito/Viano, VW Caravelle/Transporter)
Transport of larger groups between Prague and Krivoklat / Křivoklát
Please contact us in the case your group is larger than 8 passengers. We will calculate the price of the transfer from Prague to Krivoklat and will send it to you. We also will help you with choosing the best combinationof the vehicles - whether you prefer one larger vehicle / (mini)bus / coach or a combination of smaller vehicles (sedans and minivans). We offer discounts for larger groups and return transfers.
Price of oneway transfer from Prague to Krivoklat
The price is valid for oneway transfer from Prague to Krivoklat or oneway transfer from Krivoklat to Prague.
Price of return transfer from Prague to Krivoklat
The price is valid when you book transfer to Krivoklat and return from Krivoklat in separate days so we send your car & driver to Krivoklat from Prague again.
Free return transfer from Krivoklat
In the case you return from Krivoklat the same day, the car & driver will wait for you in Krivoklat and we charge only waiting fee which is 10 EUR / 250 CZK (sedan) and 12 EUR / 300 CZK (minivan) per hour. It is cheaper than booking return transfer = 2 separate transfers.
Example: you departure from Praha at 8am. You arrive to Krivoklat at 10:00. You will departure from Krivoklat at 15:00. So we will charge 5 x 10 EUR that is 50 EUR not 66 EUR per the return transfer!
What to see in Křivoklát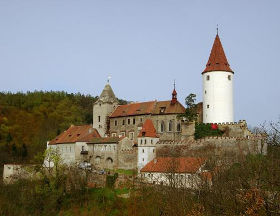 The castle of Křivoklát belongs to the oldest and most important castles of the Czech princes and kings. The history of its construction starts in the 12th century.

During the reign of Přemysl Otakar II. a large, monumental royal castle was built to be later rebuilt by king Václav IV. and even later generously enlarged by king Vladislav of Jagellon.

The castle of Křivoklát was seriously damaged by fire several times. It became a feared prison and its importance sank rapidly. First during the Romantic époque of the 19th century (when under rule of the family of Fürstenberg that owned the castle until 1929) the castle was reconstructed - and saved.

See a beautiful castle chapel, the Great Royal and Chivalric Halls with an exhibition of Gothic paintings and sculptures, the castle library containing over 52.000 bands, a rich museum and a painting gallery of the Fürstenberg, a famous castle prison with torture chambers and torture instruments, a monumental tower with a collection of hunting trophies and a view of the surrounding area, a pleasant walk around the castle walls, the tower Huderka with an open-hearth kitchen and an observatory gallery, the seat of the captain with temporary exhibitions…all of this and much more belongs to Křivoklát, a national cultural monument.
Ski Resorts
Nice mail from Richard
Dinner with the Folklore
New pictures of cars
Transfer Prague Harrachov