Transfer from Prague to Melnik
Company airport-transfer-prague.eu provides low cost, efficient, private transfers from Prague to Melnik. There is one fixed price from every address in Prague (Prague Airport or City Center) to any address in Melnik - we do not distinguish between different pick-up and drop-off points in Prague and Melnik. Transfers are quoted per group / vehicle, not per passenger.
Distance from Prague to Melnik: 50 km
Transfer duration: 0:45 h
Transfer PRAGUE - MELNIK (or MELNIK - PRAGUE) in sedan for max. 4 pax
one way
1100 CZK or 45 EUR
return trip
2050 CZK or 84 EUR
prices per vehicle
(VW Passat, Skoda Superb etc.)
Transfer PRAGUE - MELNIK (or MELNIK - PRAGUE) in minivan for max. 8 pax
one way
1350 CZK or 55 EUR
return trip
2550 CZK or 105 EUR
prices per minivan
(Mercedes Vito/Viano, VW Caravelle/Transporter)
Transport of larger groups between Prague and Melnik
Please contact us in the case your group is larger than 8 passengers. We will calculate the price of the transfer from Prague to Melnik and will send it to you. We also will help you with choosing the best combinationof the vehicles - whether you prefer one larger vehicle / (mini)bus / coach or a combination of smaller vehicles (sedans and minivans). We offer discounts for larger groups and return transfers.
Price of oneway transfer from Prague to Melnik
The price is valid for oneway transfer from Prague to Melnik or oneway transfer from Melnik to Prague.
Price of return transfer from Prague to Melnik
The price is valid when you book transfer to Melnik and return from Melnik in separate days so we send your car & driver to Melnik from Prague again.
Free return transfer from Melnik
In the case you return from Melnik the same day, the car & driver will wait for you in Melnik and we charge only waiting fee which is 10 EUR / 250 CZK (sedan) and 12 EUR / 300 CZK (minivan) per hour. It is cheaper than booking return transfer = 2 separate transfers.
Example: you departure from Praha at 8am. You arrive to Melnik at 10:00. You will departure from Melnik at 15:00. So we will charge 5 x 10 EUR that is 50 EUR not 94 EUR per the return transfer!
What to see in Melnik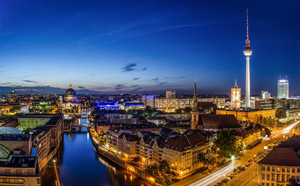 Berlin Wall
The famous Berlin wall splited West Berlin from the communistic East Berlin. Recently almost completely demolished.
Charlottenburg Gardens
Palace and garden complex called Berlin Mini Versailles.
Museum Island
Five most important museums in the east part of Berlin.
Berlin Philharmonic
Berlin Filharmonie is ranked as one of the best world classic symphony orchestra.
Berlin Zoo
Have you heard that there is almost 15.000 animals in the Berlin Zoo?
Ski Resorts
Nice mail from Richard
Dinner with the Folklore
New pictures of cars
Transfer Prague Harrachov