Transfer from Prague to Munchen
Transfers from Prague Airport or City Centre to Munchen.

Distance from Prague to Munchen: 390 km
Transfer duration: 4:30 h
Transfer Prague - Munchen - 4 pax
prices per vehicle VW Passat, Skoda Superb, Mercedes E
one way
6400 CZK or 262 EUR
return trip
12500 CZK or 512 EUR
Transfer Prague - Munchen - 8 pax
prices per minivan Mercedes Vito/Viano, VW Caravelle/Transporter
one way
7950 CZK or 326 EUR
return trip
15550 CZK or 638 EUR
Larger groups transport between Prague and Munchen / Munich
Please contact us in the case your group is larger than 8 passengers. We will calculate the price of the transfer from Prague to Munchen / Munich and will send it to you. We also will help you with choosing the best combination of the vehicles - whether you prefer one larger vehicle / (mini)bus / coach or a combination of smaller vehicles (sedans and minivans). We offer discounts for larger groups and return transfers.
Sightseeing tour with stops on the route Prague - Munchen / Munich
Are you on a holiday in Central Europe? Would you like to visit some interesting places on your way from Prague to Munich, like Pilsen or Regensburg? In that case we are ready to make the stop(s) for you. Just please mention it in the booking form in the field "note". We are flexible so we make stop at any place(s) you want to visit, we will charge just 10 EUR per hour witing time per a sedan and 15 EUR per minivan. Driver will wait for you at the agreed meeting point. We also can arrange a licenced tour-guide for you. For this kind of service it is better to contact us by email or via this contact form.
Price of oneway transfer from Prague to Munchen / Munich
The price is valid for transfer from Prague to Munchen or transfer from Munchen to Prague.
Price of return transfer from Prague to Munchen
The price is valid when you book transfer to Munchen and return from nchen in separate days so we send your driver to Munchen again.
Discounted one day transfers / tours to Munchen and back
You do not pay return transfer from Munchen, just waiting fee, if you return in the same day!
In the case you go to Munchen and return the same day, the driver will wait for you in Munchen and we charge waiting fee 250 CZK / 10 EUR per sedan per 1 hour or 375 CZK / 15 EUR per minivan per hour. It is cheaper than booking return transfer = 2 separate transfers.
What to see in Munchen / Munich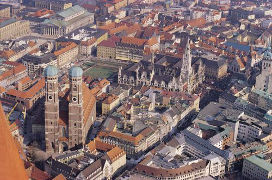 These are a few selected sites you can see in the Munchen (Munich).
Neuschwanstein
Neuschwanstein is absolutly amazing knight´s castle on the high elevated rock driving distance from Munich. It is so stunning that we decided to put it as a first item on this list even that the site is not located directly in the City of Munich.
Octoberfest
With more than six million visitors, over five million litres of beer, 200,000 pairs of pork sausages, and 100 spit-roasted oxen – Munich's Oktoberfest is the largest folk fair in the world. At the foot of the Bavaria statue, a huge field, the Theresienwiese (Wisen for short), is transformed into a fairground with beer tents operated by traditional breweries, rides, and a variety of vendors selling gingerbread hearts, roast chicken and fresh pretzels. For 16 days, visitors and locals, some in traditional costumes, indulge in Bavarian revelry.
Olympiapark
In preparation for the 1972 Olympic Games, a former airfield and parade grounds were transformed into an Olympic park. The park features landscaped hills, an artificial lake, a communications tower, and sports facilities. Designed by the firm of Behnisch & Partners, the elegant, airy ensemble derives its character chiefly from the transparent tensile roof designed by Frei Otto. Tent-shaped, it covers part of the stadium, the hall, and the pool, and is considered a masterpiece of modern architecture.
Mariensplatz
Henry the Lion transformed Marienplatz into the centre of Munich – and it remains the heart of the city today. This is where the Neues Rathaus (New Town Hall) stands, major public transit lines meet, and locals and visitors alike stroll past street entertainers, or sit at the restaurant and café patios lining the square. A pedestrian zone begins at the western end of the square; the elegant WeinstraBe and TheatinerstraBe lead off from the north; toward the east are the Isartor and MaximilianstraBe, and to the south the Viktualienmarkt.
Deutsches Museum
The Deutsches Museum, founded by Oskar von Miller in 1903, is housed on an island in the Isar River in a building dating from 1925. The world's largest museum of technology and engineering is a tour de force – only a fraction of the exhibits can be viewed in a single day. The best approach is to plan your visit in advance.
Ski Resorts
Nice mail from Richard
Dinner with the Folklore
New pictures of cars
Transfer Prague Harrachov