Transfer from Prague to Usti nad Labem
Company airport-transfer-prague.eu provides low cost, efficient, private transfers from Prague to Usti nad Labem. There is one fixed price from every address in Prague (Prague Airport or City Center) to any address in Usti nad Labem - we do not distinguish between different pick-up and drop-off points in Prague and Usti nad Labem. Transfers are quoted per group / vehicle, not per passenger.
Distance from Prague to Usti nad Labem: 90 km
Transfer duration: 1:00 h
Transfer PRAGUE - USTI NAD LABEM (or USTI NAD LABEM - PRAGUE) in sedan for max. 4 pax
one way
1650 CZK or 68 EUR
return trip
3100 CZK or 127 EUR
prices per vehicle
(VW Passat, Skoda Superb etc.)
Transfer PRAGUE - USTI NAD LABEM (or USTI NAD LABEM - PRAGUE) in minivan for max. 8 pax
one way
2050 CZK or 84 EUR
return trip
3850 CZK or 158 EUR
prices per minivan
(Mercedes Vito/Viano, VW Caravelle/Transporter)
Transport of larger groups between Prague and Usti nad Labem
Please contact us in the case your group is larger than 8 passengers. We will calculate the price of the transfer from Prague to Usti nad Labem and will send it to you. We also will help you with choosing the best combinationof the vehicles - whether you prefer one larger vehicle / (mini)bus / coach or a combination of smaller vehicles (sedans and minivans). We offer discounts for larger groups and return transfers.
Price of oneway transfer from Prague to Usti nad Labem
The price is valid for oneway transfer from Prague to Usti nad Labem or oneway transfer from Usti nad Labem to Prague.
Price of return transfer from Prague to Usti nad Labem
The price is valid when you book transfer to Usti nad Labem and return from Usti nad Labem in separate days so we send your car & driver to Usti nad Labem from Prague again.
Free return transfer from Usti nad Labem
In the case you return from Usti nad Labem the same day, the car & driver will wait for you in Usti nad Labem and we charge only waiting fee which is 10 EUR / 250 CZK (sedan) and 12 EUR / 300 CZK (minivan) per hour. It is cheaper than booking return transfer = 2 separate transfers.
Example: you departure from Praha at 8am. You arrive to Usti nad Labem at 10:00. You will departure from Usti nad Labem at 15:00. So we will charge 5 x 10 EUR that is 50 EUR not 74 EUR per the return transfer!
What to see in Usti nad Labem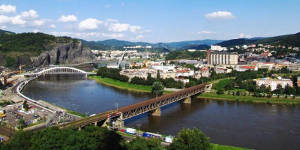 Střekov Castle
The adapted castle ruins form a distinct dominant in the south of the city over the right bank of the Elbe river. The ruins are placed on 100 m high clinkstone rock. The castle was founded in 1318 to protect the local trade route. The Romantic appearance of the castle ruins attracted many outstanding personalities (e.g. painter Adrian Ludwig Richter, Ernst Gustav Doerel, composer Richard Wagner, poet Karel Hynek Macha). In 1923-1936 the Masaryk flood gate with a ship lock and a power station was constructed below the castle on the river Labe.
An exhibition of the history of the castle and the region can be visited in the castle palace. Visitors of the restaurant terrace have an exquisite view of the city and of the Elbe valley. After 1989 the castle was restituted to the Lobkowicz family.
Zubrnice Open Air Museum
The Museum of Vernacular Architecture in Zubrnice maintains buildings and the equipment documenting the life and housing in the area of the Czech Highland in the past. It is the youngest open-air museum within Bohemia. A complex of timbered farm houses with preserved interior and exterior including a unique hot air fruit drying house are open to the public. Another interesting display is a little village shop and a village school. The village square is decorated with a wooden Baroque fountain. The Church of the St. Mary of Magdala is also a part of the open-air museum.
City Museum
The museum in Usti nad Labem is one of the oldest museums in northwestern Bohemia. It was founded in 1876 as an industrial art museum. It obtained international reputation thanks to the collection of minerals and rock stones of the Czech Highland. Today the museum has a permanent exhibition documenting the history of the Usti region from prehistoric times to the 20th century including the Battle of Chlumec in 1813.
Napoleonic Battlefields at Chlumec
In 1813, the second heaviest battle of the Napoleonic wars on the Austrian territory raged in the vicinity of Chlumec, Přestanov, Stradov, Žandov and Telnice. August 29 – August 30, 1813: The battles of Přestanov and Chlumec.
Ski Resorts
Nice mail from Richard
Dinner with the Folklore
New pictures of cars
Transfer Prague Harrachov