Transfer from Prague to Wroclaw
Transfers from Prague Airport or City Centre to Wroclaw

Distance from Prague to Wroclaw: 330 km
Transfer duration: 3:30 h
Transfer Prague - Wroclaw - 4 pax
prices per vehicle VW Passat, Skoda Superb, Mercedes E
one way
5400 CZK or 221 EUR
return trip
10400 CZK or 426 EUR
Transfer Prague - Wroclaw - 8 pax
prices per minivan Mercedes Vito/Viano, VW Caravelle/Transporter
one way
6750 CZK or 277 EUR
return trip
12950 CZK or 531 EUR
Larger groups transport between Prague and Wroclaw
Please contact us in the case your group is larger than 8 passengers. We will calculate the price of the transfer from Prague to Wroclaw and will send it to you. We also will help you with choosing the best combination of the vehicles - whether you prefer one larger vehicle / (mini)bus / coach or a combination of smaller vehicles (sedans and minivans). We offer discounts for larger groups and return transfers.
Sightseeing tour with stops on the route Prague - Wroclaw
Are you on a holiday in Central Europe? Would you like to visit some interesting places on your way from Prague to Wroclaw, like Brno or Bratislava? In that case we are ready to make the stop(s) for you. Just please mention it in the booking form in the field "note". We are flexible so we make stop at any place(s) you want to visit, we will charge just 10 EUR per hour witing time per a sedan and 15 EUR per minivan. Driver will wait for you at the agreed meeting point. We also can arrange a licenced tour-guide for you. For this kind of service it is better to contact us by email or via this contact form.
Price of oneway transfer from Prague to Wroclaw
The price is valid for transfer from Prague to Wroclaw or transfer from Vienna to Wroclaw.
Price of return transfer from Prague to Wroclaw
The price is valid when you book transfer to Wroclaw and return from Wroclaw in separate days so we send your driver to Wroclaw again.
Discounted one day transfers / tours to Wroclaw and back
You do not pay return transfer from Wroclaw, just waiting fee, if you return in the same day!
In the case you go to Wroclaw and return the same day, the driver will wait for you in Wroclaw and we charge waiting fee 250 CZK / 10 EUR per sedan per 1 hour or 375 CZK / 15 EUR per minivan per hour. It is cheaper than booking return transfer = 2 separate transfers.
What to see in Wroclaw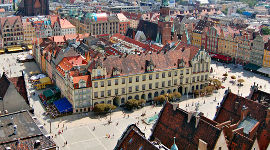 These are a few selected sites you can see in the Wroclaw.
Centennial Hall
The only UNESCO World Heritage Site in Wroclaw is unusual and not a cathedral, medieval landmark or Brick Gothic point of interest. Rather, Centennial Hall is a 6,000 seat reinforced concrete assembly hall. Built in the early 20th century by eminent German urban planner Max Berg, the massive domed structure broke new architectural ground. Wroclaw's most conspicuous landmark is still in use today.
Wroclaw Town Hall and Rynek
The Rynek is one of the foremost medieval squares in Europe, let alone Poland. The main market square of Wroclaw attracts scores of locals and tourists alike and offers access to some of the best monuments in the city. Built in the early 13th century, the Rynek is a lively pedestrian zone. Wroclaw Town Hall is the square's most indelible landmark.

White Stork Synagogue and Old Jewish Cemetery
Lest we forget, Wroclaw once had a considerable and influential Jewish community. Two superb landmarks that emerge as valuable history lessons are the White Stork Synagogue and the city's Old Jewish Cemetery.

National Museum
Poland's respect for national archival records is admirable and evident from Lodz to Gdansk. In that vein, Wroclaw's National Museum is excellent, with a vast collection of fine art and artifacts spread out over three floors.

University of Wroclaw
With over 135,000 students, Wroclaw is a dynamic university city. Nine premier academic institutions, from the world class University of Technology to the Karol Lipinski University of Music, employ close to 10,000 people in the city. The University of Wroclaw is the crown jewel, with 18th century campus landmarks that serve as de facto museums.

Ski Resorts
Nice mail from Richard
Dinner with the Folklore
New pictures of cars
Transfer Prague Harrachov