Transfer from Prague to Zlin
Company airport-transfer-prague.eu provides low cost, efficient, private transfers from Prague to Zlin. There is one fixed price from every address in Prague (Prague Airport or City Center) to any address in Zlin - we do not distinguish between different pick-up and drop-off points in Prague and Zlin. Transfers are quoted per group / vehicle, not per passenger.
Distance from Prague to Zlin: 300 km
Transfer duration: 2:45 h
Transfer PRAGUE - ZLIN (or ZLIN - PRAGUE) in sedan for max. 4 pax
one way
5100 CZK or 209 EUR
return trip
9550 CZK or 392 EUR
prices per vehicle
(VW Passat, Skoda Superb etc.)
Transfer PRAGUE - ZLIN (or ZLIN - PRAGUE) in minivan for max. 8 pax
one way
6350 CZK or 260 EUR
return trip
11900 CZK or 488 EUR
prices per minivan
(Mercedes Vito/Viano, VW Caravelle/Transporter)
Transport of larger groups between Prague and Zlin
Please contact us in the case your group is larger than 8 passengers. We will calculate the price of the transfer from Prague to Zlin and will send it to you. We also will help you with choosing the best combinationof the vehicles - whether you prefer one larger vehicle / (mini)bus / coach or a combination of smaller vehicles (sedans and minivans). We offer discounts for larger groups and return transfers.
Price of oneway transfer from Prague to Zlin
The price is valid for oneway transfer from Prague to Zlin or oneway transfer from Zlin to Prague.
Price of return transfer from Prague to Zlin
The price is valid when you book transfer to Zlin and return from Zlin in separate days so we send your car & driver to Zlin from Prague again.
Free return transfer from Zlin
In the case you return from Zlin the same day, the car & driver will wait for you in Zlin and we charge only waiting fee which is 10 EUR / 250 CZK (sedan) and 12 EUR / 300 CZK (minivan) per hour. It is cheaper than booking return transfer = 2 separate transfers.
Example: you departure from Praha at 8am. You arrive to Zlin at 10:00. You will departure from Zlin at 15:00. So we will charge 5 x 10 EUR that is 50 EUR not 94 EUR per the return transfer!
What to see in Zlin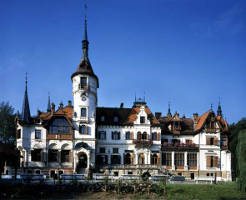 Bata (Baťa - [Batja]) and shoes
When we spell the name Tomas Bata, the name will be known in many corners of the globe. Zlin is the hometown of the genius - enterpreneur Tomas Bata who after some hard years became number one producer and exporter of shoes in the world. He was famous by his revolutionary methodologies in business, trade. I especially admire his great approach to his employees who - literally - were like part of his family. Stories say that Bata could remember names of all his employees / colleagues and names of their family members. That is amazing when we realize that there were thousands people working in Bata´s factories. They also say that he had built his office inside of a factory elevator so he could move quicker in the hall and control the work. He never called labor "workers", but "colleagues" (or coworkers). Every eof the year he made his colleagues to write down the sum of money they would earn next year. He stated: "You are my coworkers and it is my duty to create such conditions for you that you can reach your goals and earn the money you wish."
Talking about Zlin Town, he also rebuilt the town by his own ideas and toward the needs of the Bata company. I have heard and seen famous Bata Twin-Houses - one family house was "split" in two halves and accomodated two worker families. Little garden was connected to every house and so the "Bata collonies" were created in Zlin (and other towns where Bata created the branches).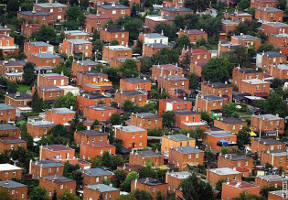 Bata Houses for workers in Zlin
Bata decided to solve the problem with low effectivity of his co-workers who had to travel to factories by building the collonies of little houses for them. Not everybody knows that first of these houses were built in the same year when Titanick sunk = in 1912. Huge development anyway followed in the 20ies of the 20th century.
Zlin Zoo
Zlin Zoo is located in the park area of the chatteau Lešná. It was created by Tomas Bata in 1930. It is called "The Zoo of the all continents" and it is the most visited tourist destination in Moravia.
Ski Resorts
Nice mail from Richard
Dinner with the Folklore
New pictures of cars
Transfer Prague Harrachov